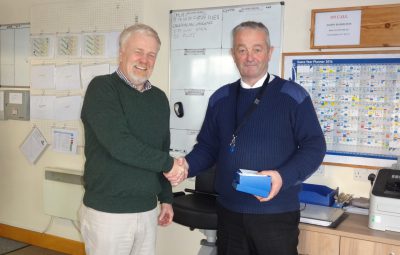 Dec
09
2016
The total number of boxes landed during the week was 10,565 from 26 vessels, of which 9,311 were consigned from 21 vessels of which there were 850 boxes from one Faroese vessel. There were 1,254 boxes through the market from 5 vessels.
The following vessels berthed during the week:
 05/12/2016         The "Vadeor Highlander" arrived in Port from Lerwick to discharge fuel at Simpsons Depot.
06/12/2016         The "Blikur" arrived in Port from Runavik to discharge her usual fish cargo.
08/12/2016         The "NS Iona" arrived in Port from the UKCS to load/unload oil related cargo.
Additional Information:
Mr John Webster, Assistant Harbour Master, has been 25 years employed by Scrabster Harbour Trust and this was recognised with a presentation by the Trust Chairman, Mr Tom Pottinger, of an inscribed solid silver Quaich.