Oil & Gas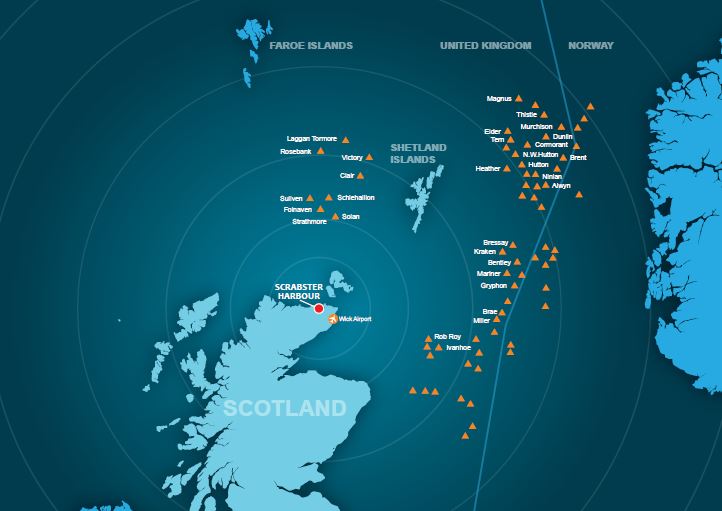 As the closest mainland port for the oil and gas activity West of Shetland and many installations in the Northern North Sea, Scrabster Harbour offers numerous advantages such as shorter steaming times, fast turnaround and ultimately impressive cost savings.
Following significant reinvestment into the port, our skilled team, competitive charges and modern infrastructure compliment the benefits of the port's strategic proximity to oil and gas operations. With offshore installations saving in excess of 20 hours on a round trip to the main North East oil ports by using Scrabster.
It has been recognised by offshore companies and major subsea and service contractors the huge benefits to be gained from utilising our port, with access available at any state of tide, without delays.
We have strong relationships with local suppliers and as a result have stevedoring and plant hire, with modern cranage up to 350 tonnes. Lay down areas and warehousing are also available within the harbour boundaries.
Scrabster Harbour's engineering support and its strategic position, being close to BP's assets West of Shetland (WoS), make it an attractive option for BP LWI work. The experience we have had there has been positive to date, and is a proven option which we would continue to consider in the future The dedicated and proactive staff gave excellent support throughout.
BP Lead Intervention Engineer 2014 LWI Campaign
Furthermore, water and fuel supplies are at hand and quayside space is available. A full range of engineering services is available locally.
Steaming Distance (Nautical Miles)
| | | | | |
| --- | --- | --- | --- | --- |
| | Foinaven / Schiehallion | Clair | Mariner | Hutton |
| SCRABSTER | 104 | 135 | 155 | 200 |
| PETERHEAD | 208 | 201 | 154 | 202 |
| ABERDEEN | 234 | 228 | 177 | 225 |
Using Scrabster means faster deliveries, higher vessel utilisation, reduced downtime and significantly lower costs.
Facilities and Services at the 24/7 port include:
Over 545 metres of deepwater berthing
Heavy lift capability
Local crane operations and haulage services
Engineering
Bunkers (ex-pipe, ship to ship and by road tanker)
Fresh water
Laydown areas and open storage
Skilled local supply chain
Free Wi-Fi (designated areas)
Mainland transport connections (air, rail and road)