Cruise & Ferries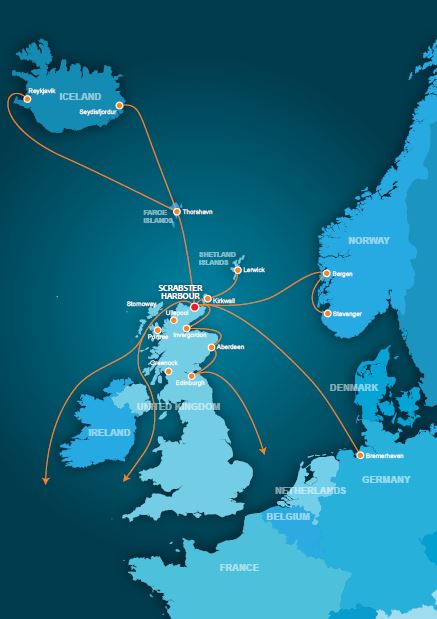 With modern ferry infrastructure to accommodate domestic and international traffic, Scrabster is the gateway for daily lifeline ferry services to Orkney and cruise ships visiting the remote, beautiful and historic far North of Scotland.
The ferry terminal is used by Serco Northlink Ferries roll on/roll off vessel, Hammnavoe. The ship is linked to the terminal by an elevated overhead walkway for the comfort and safety of passengers.
For further details, terminal opening times and ferry schedules, please visit www.northlinkferries.co.uk
As the main port of northern mainland of Scotland, Scrabster, is a regular port of call for visiting cruise ships. Cruise ships up to 180 metres and 8 metres draft berth alongside, with larger ships using the deep water anchorage available within 0.2 nautical miles. The former St Ola Pier linkspan is used for tenders operating from the anchorage. Pilotage is not compulsory at Scrabster. Scrabster is fully ISPS Code compliant, with security personnel provided by the harbour authority to ISPS standards. Fast, fresh water supplies are easily accessible.
A courtesy bus service to and from the town of Thurso is available for cruise passengers and crew.
Scrabster Harbour Trust is a member of Cruise Scotland and Cruise Europe.
Further cruise destination information is available within our Cruise Directory which includes an Interactive map and we have also produced a video below showing a small selection of the areas superb attractions.
Provisional Scrabster Cruise Programme – 1 Jan – 31 Dec 2023 (this list is subject to change at any time).
| Name of Ship | Date | Time | Date | Time |
| --- | --- | --- | --- | --- |
| Seabourne Ovation | 14/05/2023 | 0800hrs | 14/05/2023 | 1800hrs |
| AIDASOL | 17/05/2023 | 0800hrs | 17/05/2023 | 1800hrs |
| AIDASOL | 27/05/2023 | 0800hrs | 27/05/2023 | 1800hrs |
| Silver Endeavour | 29/05/2023 | 0700hrs | 29/05/2023 | 1800hrs |
| Ambition | 15/06/2023 | 0700hrs | 15/06/2023 | 1800hrs |
| Spirit of Discovery | 14/07/2023 | 0800hrs | 14/07/2023 | 1900hrs |
| AMBIENCE | 17/07/2023 | 0800hrs | 17/07/2023 | 1800hrs |
| Heb Princess | 24/07/2023 | 1900hrs | 25/07/2023 | 1200hrs |
| Spirit of Discovery | 27/07/2023 | 0800hrs | 27/07/2023 | 1700hrs |
| Heb Princess | 15/08/2023 | 0730hrs | 15/08/2023 | 1200hrs |
| Ambition | 17/08/2023 | 0700hrs | 17/08/2023 | 1900hrs |
| Viking Mars | 20/08/2023 | 0800hrs | 20/08/2023 | 1700 hrs |
| Heb Princess | 29/08/2023 | 1900hrs | 30/08/2023 | 1300hrs |
| Heb Sky | 31/08/2023 | 1900hrs | 31/08/2023 | 1800hrs |
| Heb Princess | 03/09/2023 | 2000hrs | 04/09/2023 | 1300hrs |
| AMBIENCE | 04/09/2023 | 0800hrs | 04/09/2023 | 1800hrs |
| Silver Dawn | 05/09/2023 | 0700hrs | 05/09/2023 | 1800hrs |
| Viking Mars | 07/09/2023 | 0800hrs | 07/09/2023 | 1800 hrs |
| Ambition | 11/09/2023 | 0700hrs | 11/09/2023 | 1900 hrs |
| World Explorer | 18/09/2023 | 0800hrs | 18/09/2023 | 1800hrs |