Weekly Update 31 May 2019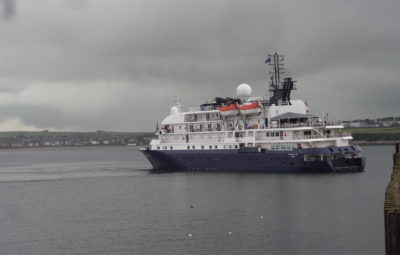 The total number of boxes landed during the week were 6,440 from 23 vessels, of which 5,452 were consigned from 15 vessels. There were 988 boxes through the market from 8 vessels.
The following vessels berthed during the week:
28/05/2019   The "Svartfoss" arrived in Port from Runavik to discharge her weekly fish cargo.  She left Port the next day sailing to Klasvik.
29/05/2019   The "Pharos" arrived in port for De-Mob.
30/05/2019   The Cruise vessel "Hebridean Sky arrived on Thursday morning.  She sailed around 1730 last night after enjoying a performance by Caithness Junior Pipe Band.
31/05/2016   Coastguard vessel "Ievoli Black" arrived today.  She will be in Port over the weekend for lifeboat day taking place tomorrow at Scrabster.