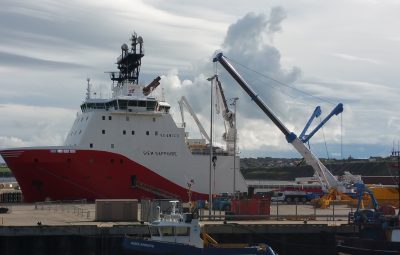 Sep
16
2016
The total number of boxes landed during the week was 5,505 from 15 vessels, of which 3,821 were consigned from 11 vessels. There were 1,684 boxes through the market from 4 vessels.
The following vessels also berthed during the week:
09/09/2016         The "Aura" arrived in the Bay from Lindoe Denmark for anchor against the weather.
11/09/2016         The "Siem Sapphire" arrived in Port to pick up renewable cargo for Moray Firth Smith Bank.
13/09/2016         The "Lomur" arrived in Port from Runavik to discharge her usual fish cargo.
14/09/2016         The "Vadero Highlander" arrived in Port from Sunderland to discharge fuel at Simpson's Depot.