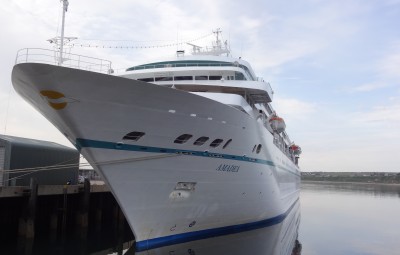 Sep
14
2015
Scotland's most northerly mainland commercial port, Scrabster Harbour, has said bon voyage to its last scheduled cruise ship of the 2015 season.
The harbour, which is a multi-purpose port based in Caithness, welcomed six cruise ships throughout the summer bringing in passenger numbers of more than 3,200 to the area. Amadea, a 29,008 tonne cruise ship arrived in the harbour on September 8th from Reykjavik, Iceland with 576 visitors eager to visit the north of Scotland before leaving for Bremerhaven, Germany the next day.
It is now a decade since Scrabster made the strategic decision to market the port and local area as a cruise destination. This strategy has seen more than 23,000 cruise passengers arrive at Scrabster since 2006.
Scrabster's location offers a competitive advantage to a range of sectors including oil and gas, renewables, fishing, cargo and the cruise and ferry industry. The harbour has excellent facilities due to the port development with cruise ships up to 180 metres and 8 metres draft berthing alongside, while larger vessels use the deep water anchorage available within 0.2 nautical miles.
Sandy Mackie, Trust Manager for Scrabster Harbour, said: "Scrabster is a regular port of call for visiting cruise ships and we were delighted to see the increase in passenger numbers this year. Over the past decade we have managed to attract visitors equivalent to three times the population of the local Thurso area. We have had a very busy summer period with passengers on the daily ferry link to Orkney increasing by 3% over the peak season."
Scrabster Harbour has gone from strength to strength this year with record revenues and vessel tonnage. The port now has 10 cruise vessel reservations for next year, which could bring passenger numbers of more than 5,000 to the Caithness area with Fred Olsen's Boudicca being the first scheduled liner of the season next April.
Sandy added: "The increase in bookings for 2016 is not only fantastic for the port but beneficial for the surrounding areas as well."
Some of the attractions in the region include Castle Mey, Caithness Horizons and the Pulteney Distillery which is the most northerly whisky distillery in Scotland.
Beki Pope, Manager of Caithness Horizons said: "Caithness Horizons Museum always enjoys working with the cruise ship visitors to enhance their visit to the Caithness area. We are looking forward to working with Scrabster Harbour to welcome more cruise visitors in 2016".