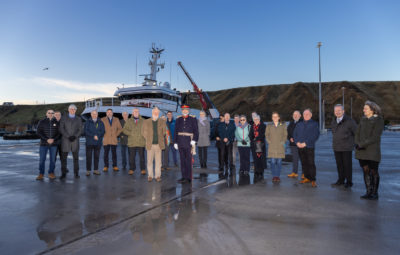 Dec
13
2021
The latest port development at Scrabster Harbour, Caithness was officially opened and dedicated on 10th December 2021.
The Lord Lieutenant of Caithness, John Thurso, cut the ribbon on the £18.9 million redeveloped St. Ola Pier before invited guests including port users and stakeholders.
The project is Scrabster Harbour Trust's latest major development at the Caithness port with £38.7 million being invested over the past decade.
The project involved the redevelopment of an existing pier.  The redeveloped pier structure offers a total of 500 metres of deep-water berthing, with a new outer berthing face capable of accommodating vessels of up to 250 metres length. The quay offers a water depth of 9 metres at chart datum on the outer berth and 7.5 metres on the inner berths.  The total deck area extends to 9,000m2 including a dedicated heavy lift area.
The construction works contractor was RJ McLeod (Contractors) Ltd with RPS Ireland Ltd providing the project management services.  Highland and Island Enterprise (HIE) and the Nuclear Decommissioning Authority (NDA) provided grant assistance to the project with the funding package also including Clydesdale Bank borrowing facilities.
The Trust Board Chairman, Tom Pottinger commented: "Scrabster Harbour Trust, through the decades, has invested in the future of the port and local area.  Redeveloped multi-user piers, deeper water and better facilities reflect the needs of our current and potential future customers."
"Further investment to improve port capacity positions Scrabster to seize the business opportunities arising in areas such as offshore energy and cruise.  The works have been constructed against a challenging environment during the pandemic.  Completion has been achieved on time and under budget which is a feather in the cap of all parties involved".
David Peattie, NDA CEO, said: "We are incredibly proud of our involvement in the redevelopment of St Ola Pier. The opening of the pier is a huge milestone and a great example of our socio-economic strategy in action.
"I believe that this project can help Scrabster Harbour develop a diverse range of new opportunities and make a significant contribution to the long-term sustainability of the local economy."
Eann Sinclair, HIE area manager for Caithness and Sutherland, commented "Scrabster will have a pivotal role to play in the success of offshore wind and in our area's role in supporting the transition to net zero. Our approval of up to £3m for the St Ola pier project represented our single biggest investment in Caithness and Sutherland for several years. This reflects the importance we attach to the development of infrastructure that supports future economic opportunities and job creation for the north. I am delighted we have been able to support this timely and well-managed project and look forward to continuing to work with our partners to make sure these benefits are realised."