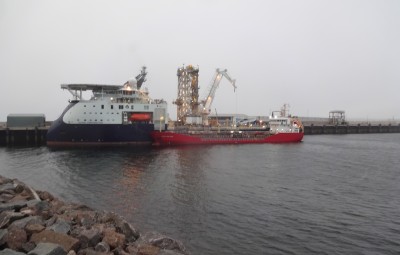 Aug
03
2015
Scotland's most northerly mainland commercial port, Scrabster Harbour, has seen more than a 100% increase in its oil and gas vessel tonnage, boosting traffic levels by 52%.
The harbour, which is a multi-purpose port based in Caithness, has seen an increase in vessel arrivals for the first quarter, compared to figures in 2014. Its oil and gas vessel arrivals have been recorded at 19, with vessel tonnage of 123,130 tonnes for the month of July, surpassing all previous records at the port.
Sandy Mackie, Trust Manager for Scrabster Harbour, said: "The growth in energy related traffic shows that Scrabster Harbour is ideally placed for oil and gas vessels. As the closest mainland port for oil and gas activity off the west of Shetland, and many installations in the northern North Sea, we offer huge benefits to existing and potential clients."
One of the recent arrivals at the harbour included the 11,600 tonne well intervention vessel the Island Constructor which is working on contract for BP. Mobilisation works on this ship allowed businesses from across the area to capitalise on the project while the vessel was berthed. Scrabster Harbour assisted the vessel with taking on water, stores and bunkers, engineering works, crane hire, haulage, transport for crew members and waste services.
The increased activity at the port has included project related vessel mobilisations, crew changes and supply vessel activity to support North Sea operations.
Sandy Mackie added: "The berthing of vessels such as the Island Constructor highlights the advantage of Scrabster's proximity and the ability to handle operations such as this. We are delighted at achieving a record month in oil and gas vessel tonnage and hope that this continues to grow.
We have had great feedback from our clients who described the level of service and control of logistics at Scrabster Harbour as 'extraordinary'."
The increasing number of crew changes has also contributed to the reported growth in passenger numbers at the nearby Wick John O'Groats airport with personnel arriving at Wick by either aeroplane or helicopter. This is supported by local firm Far North Aviation.