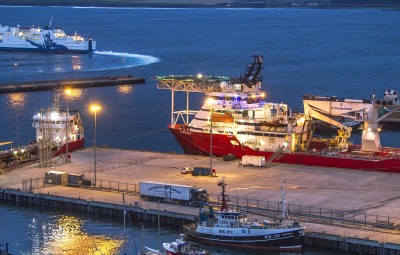 Oct
12
2015
Scrabster Harbour (Scrabster) celebrates a successful first six months of the 2015 financial year whilst looking forward to its 175th anniversary in 2016.
The harbour, which is Scotland's most northerly mainland commercial port caters for a range of sectors including oil and gas, renewables, cruise and ferries, cargo and fishing.
Scrabster Harbour Trust, which operates the port, recently held its annual general meeting where attendees learned of an upturn in activity for the first half of the year which included record tonnage levels in the month of July. Throughout the months of April to September Scrabster recorded a total of 1,134 vessel arrivals, an increase of 1.7% on the previous year due to an increase in oil and gas and renewable related activity. Shipping tonnage was up 3.6% on last year with energy related tonnage totalling 369,000 tonnes, an outstanding growth of 89% on the first six months of 2014-15.
Sandy Mackie, Trust Manager for Scrabster Harbour said: "We had a very successful trading year in 2014-15 with record port revenues being achieved. It is encouraging that in the first half of 2015-16 overall activity levels have been maintained. Our revenues for the half year are on target and financial performance is ahead of budget."
Fishing activity at the harbour has also remained steady despite recent changes to legislation and it remains one of the top landing ports in the UK, landing whitefish and shellfish, including brown crab, lobsters, prawns and scallops.
Sandy added: "The financial figures show a solid foundation to another successful year. Next year will be a significant milestone for Scrabster Harbour as it celebrates 175 years since the formation of the port. It will also be the year the first tidal turbines are deployed in the Pentland Firth."
Renewable tonnage at the port totalled 18,912 tonnes which is a 23 fold increase on the year of 2014.
Another sector using the port more is cruise and ferries increasing passenger numbers on the roll on/roll off service between Scrabster and Stromness by 4% to 89,712 and cruise users totalled 3,247 up 45% compared to the 2014 season. This continued to be Scrabster's largest revenue stream. Whereas, general cargo operations have decreased reflecting an absence of timber transportation due to the strong pound affecting continental markets.
Sandy commented that the Trust is happy with the overall performance of the port in the first half of the 2015-16 financial year.
"Overall we are happy with the financial figures and results, however, we are not complacent and we are acutely conscious of the economic challenges currently affecting important sectors such as fishing and oil and gas. We will continue to promote Scrabster as a multi-purpose port in both Caithness and the North of Scotland", he said.